---
At Home with Angel's
---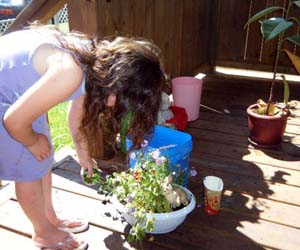 The Home Tour Sleeping/Nap Time Our Pets Meals & Snacks
For the children at Angel's Childcare Home, it's a special place. Owner Angel Peterson brings home her many years' experience in a variety of childcare environments, combining the best of what she has learned over the years, to ensure that each of the children in her care knows that they are special.
Parents can focus on the day or night ahead with peace of mind, knowing that their children will receive the best possible care.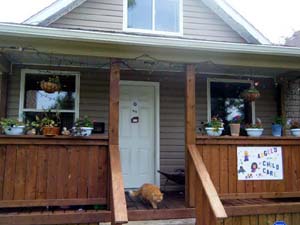 Features of Angel's Childcare Home:
● The children are cared for in a clean, comfortable and pleasant home environment, with a spacious, well-equipped, fenced yard.
● The home is a bungalow, so all rooms are near to each other, making the supervision of sleeping infants an easy matter. The use of baby monitors provides an extra measure of security.
● Each room in the home is designed for the most flexible, multi-purpose use, providing a variety of opportunities for creative activities, play, quiet time, and sleep.
● The main play room is filled with dolls, cars, books, puzzles, and dress-up clothes arranged neatly on shelves and in bins, to fuel creative play.

● The arts and crafts room is the place where the older children can play games, paint on one of the artist easels, do jigsaw puzzles or make crafts. The walls are adorned with the works of budding artists.
---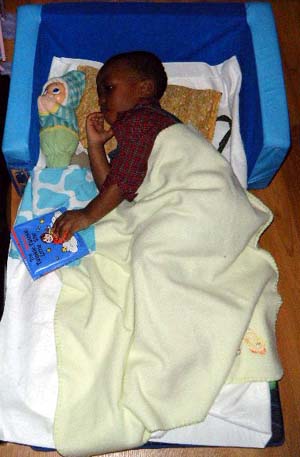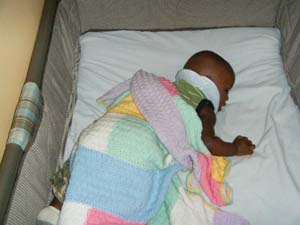 ● The office doubles as an infant nap room, recognizing the need for infants to nap on their own schedule.
● At night, the playroom becomes a bedroom for older children, where they will have their own cot to sleep on.
● Sleeping children are always closely monitored.
---
The back yard offers numerous opportunities for the children to climb, jump, run and play, to burn off all that energy.

| | | |
| --- | --- | --- |
| | | |
| Anna tries to blow bubbles | I got it in! | Ready to load up again |
---
As much as the children love going to the farm, they also love to be with their furry and feathered friends at Angel's Childcare. Angel's home environment includes pets, and allows children the opportunity to enjoy and learn about pets and how to treat them. Children and animals are natural friends.
I'm not watching the birds!
Toni with Punkin
Mittens with Tweety
Cohen serenades Tweety
Franklin in the House! Our new pet turtle
Franklin in the water
Franklin's world
---
Nutritious & fun meals and snacks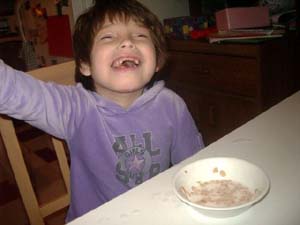 Angel's Childcare provides nutritious and varied meals and snacks for the children in their care. See our Sample Menu for more information.
For full details about Angel's Childcare Home, please see our Parents' Handbook. Print Parents' Handbook
---
More fun at home with Angel's!

Chanelle Painting
A budding artist
Busy artists
Leland is a two-fisted painter
Concentrating on the strings
Nathan and Daniel greet each other with baby kisses.
Selena and Ann share a chair
---
Quality Care at your Convenience